Coin Dozer - Free Prizes
20.9
Coin Pusher Game – Push the Coins into Your Bin
Do you like playing arcade games at the carnival? Are you a fan of the coin pushing game? If yes, then you will find this coin pusher game to your liking. Coin Dozer – Free Prizes is a relaxing game in which you have to drop coins in front of a moving slider and have it push the coins into your bin. It provides a bunch of coins to you and assigns you the task of collecting more coins in your bin. To do this, you need to drop the coins in front of the sliding machine. The machine will continue to push the coins in every direction. Your job is to ensure that the coins fall into the bin and don't fall off the sides.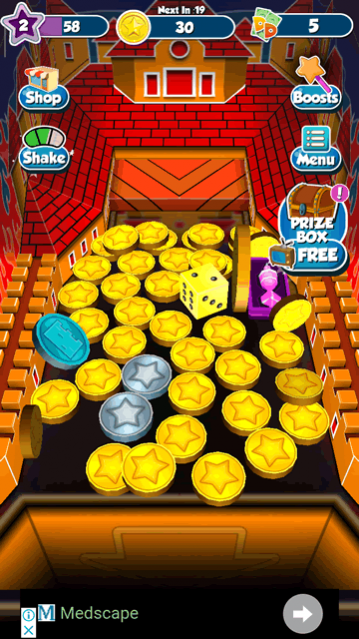 Coin Dozer – Free Prizes has smooth gameplay which complements the colorful graphics. The controls of this coin pusher game are pretty straight-forward too. You just have to tap on the area in front of the sliding machine. If you have coins in your kitty, a coin will drop which will eventually be pushed by the slider. You can drop coins one by one or drop many of them at once. However, it is a good idea to drop them one after the other. This will help you in dictating the flow of the coins. Although the progress will be slow this way, the coins will fall into the bin and not the sides. You can ensure that no coins fall down the sides by raising coin walls.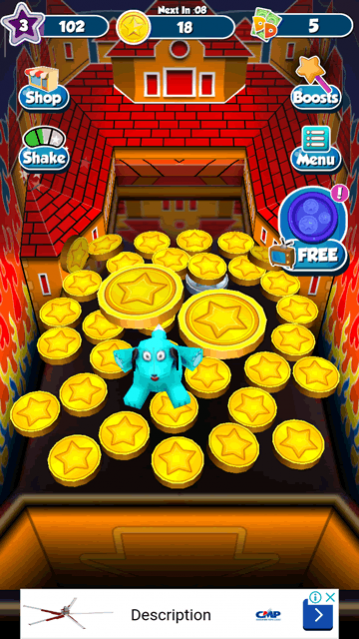 You don't just get to collect coins in this coin pusher game. There are various prizes up for grabs as well. These prizes drop from time to time on the board. You can collect them by having them pushed into your bin. Some of the prizes are collection items while the others are boosters. These boosters can help you in collecting coins more quickly. The coin walls, coin shower, and giant coin are among the helpful boosters that you can collect. You can also buy these boosters using dozer dollars or earn them by watching video advertisements. The dozer dollars can be purchased for real money in the shop section. You can also get them for free by completing available offers.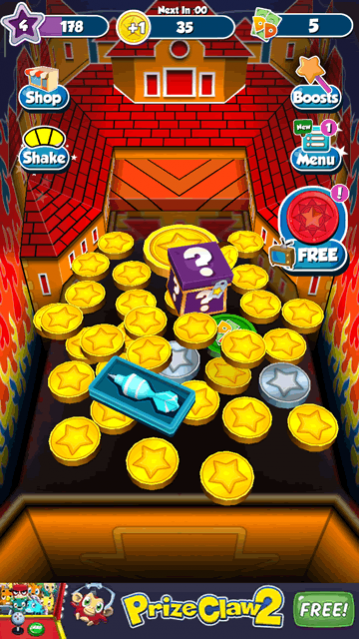 Coin Dozer – Free Prizes allows you to shake the board on which the coins and the prizes are present. There is a shake meter located on the top-left corner of the screen. It continues to build up over time and can help you in getting the coins and prizes to fall into your bin quickly. You are assigned daily quests in this coin pushing game too. Completing these daily quests can earn you gift boxes. You also get to play mini-games which can earn you exciting rewards. To play these mini-games, you have to first collect their respective coins or tokens.
Features:
Drop coins in front of a sliding machine
Collect coins by having them pushed towards you
Stop the coins from dropping down the sides
Raise coin walls to stop the coins from falling out
Lots of different prizes to collect
Shake the board to push the coins
Various boosters on offer
Complete daily quests to earn gift boxes
Play mini-games to earn exciting rewards
Conclusion:
Coin Dozer – Free Prizes is a gaming app which will primarily appeal to people who have a lot of free time on their hands. It provides them the chance to pass their time by dropping coins and see them being pushed along with various prizes towards your bin by a constantly moving slider. It is a nice coin pusher game to have on your phone if you are looking for a way to pass the time.
---
Add a review
Tell us your experience with
Coin Dozer - Free Prizes
20.9
RELATED PROGRAMS
Our Recommendations
---
---
---
---